Joker Nature slot review will help you gain more winnings. Merkur and its online arm, Edict, offered this game. The Joker is a standard character for a slot machine, yet the design linked with it isn't particularly impressive. 
Still, we've discovered that many players don't mind these classic settings, and as long as the action is engaging, it has a good chance of being played.
Joker Nature Slot Review Summary
Joker Nature requires a total of 5×4 reels to spin each round, but it may pay out up to 8,000 times the stake in rewards. 
It may not appear to be stunning at first glance, but when you consider its top prize and RTP of 96.50%, you might reconsider. The Surrounding Wild mechanic and stacked symbols are the game's most noteworthy features.
1. Wagering Options
The minimum bet in Joker Nature is one coin per line and at least $0.01 for each denomination. Its lowest value is $0.40, but there are greater possibilities available, and you could keep spending to $20 if you wanted to.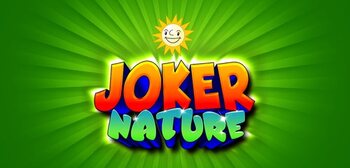 The biggest prize in Joker Nature is 8,000 times the stake, which means that a $20 wager might result in up to $160,000 in cash at the end of that extremely lucky game. While the volatility in games like these has to increase, we liked the 96.50% RTP (Return to Player) used inside. 
It informs us how much money is returned to players on average, which is higher than the 96 percent that is usually considered the minimum acceptable amount in an online slot.
2. Slot Features
One thing you'll notice about Joker Nature is that it uses stacked symbols. This makes it tough for combinations to form at times, but when they do, it's not unusual to obtain a large number of them at once.
There is only one other feature in this game, and it is a unique one for a classic slot. The Surrounding Wild is given the honor, and it depicts a Joker in its image.
If a Joker appears on the reels, it expands, but not in the way that you may expect. Instead, it changes all nearby symbols, resulting in the formation of a cluster of wilds.
Aside from the odd way it expands, the wild will be used in its traditional role as a replacement. It can be used in conjunction with any of the other symbols to develop new winning combinations. It will not reward you directly.
3. Design and Theme
There are a few aspects of Joker Nature that aren't typical of a standard fruit slot, but one of them is the design. It provides us with a larger playing area than typical (5×4 reels) by using fruits and other similar symbols on its reels, but the quality remains as basic as in many of the others.
Watermelons, Strawberries, Kiwis, Plum, Oranges, Lemon, and Cherries are among the symbols exhibited, which range from the Surrounding Wild (Joker) through Bells (200x the bet per combo), Strawberries, Kiwis, Watermelons, Plums, Lemons, Oranges, and Cherries.
At the end of Result SGP site about Joker Mature slot review, it does an excellent job at making a basic theme and style interesting. The use of a Surrounding Wild, as well as the combination of a large jackpot and a high RTP, are two features worth praising.
Read More: Reel Hero Slot Review (Wazdan) RTP 96.22%